While I love to engage in sparkling repartee about Bisexuality to dispel damaging myths and increase my own bi-visibility…and that of our Bi community… there are times when you would like your swag to do the talking. Those are the times you want to turn to the artisans and artists who create marvelous, magical garments and adornments just for Bis and their allies.
One such vendor is Jayne B. Shea. She creates clever t-shirts and I purchased one several months ago I just love. Go check out her wares, purchase your favorites and then hit the streets to represent. The link below (hopefully) works. They are charming and, based upon the t-shirt I purchased, excellent quality.  I also like this one as I would love to fancy myself as a Bi super hero….we all are when we express our bisexuality visibly and vibrantly. : )
Just type in the following web address (www.bisexualtshirts.com) and get started on your Bi wardrobe collection….as we all know we only want the t-shirts and clothes in the closet…not the Bis… 😉
Another option is Etsy where a number of vendors have adorable jewelry that shout out loud that you are Bi and proud.  Go to Etsy.com and type in bisexual jewelry. You will be amazed at the sparkly bits and bobs you will find with that simple search.
I just briefly perused what was on offer but  I really love these and may have to purchase them once I publish this post. Chainmail and Bi pride colors….yep, these may be the ones.  😉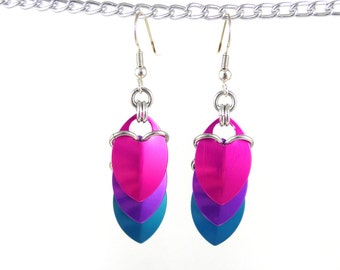 If you are reading this blog you certainly know how to use your internet machine to surf the world wide web so it is not as though I know all of the vendors and all of the clothing, jewelry, buttons, bows, etc available to wear your Bisexuality on your sleeve… If you have a bricks and mortar store in your city or neighborhood I would definitely encourage you to patronize your local businesses. The beauty of the availability on the internet is folks have access to Bi merch even if they don't have a gay or Bi or queer store nearby. Whenever possible buy from queer vendors (and union made, if possible)  to keep our business and our dollars within our own community.
The point I am trying to make is go out in public expressing your authenticity. When I first paraded around in my Bi togs I wondered if anyone would even notice. In fact, people did notice and remarked, on more than a few occasions, that they were Bi, too. Those were affirming moments for me and I hope for the folks I met, as well. Trust me, we are everywhere! ❤